I've been holding onto this fabulous ivory and black geometric polyester double-knit fabric since last spring, with the plan to turn it into a long-sleeve Sinclair Valley Knit Skater Dress. The fabric has some body (and just barely enough stretch for this pattern) and a nice drape, so I decided to use the full-circle skirt from the add-on pack for a skirt that would naturally poof out. Unfortunately, I didn't have quite enough fabric, so it took some tetrising to cut it all out (with my projector), and I ended up having to split two of the skirt panels in half and turn the long sleeves into 3/4 sleeves. But by splitting the skirt panels I was able to avoid a seam in the center front of the dress.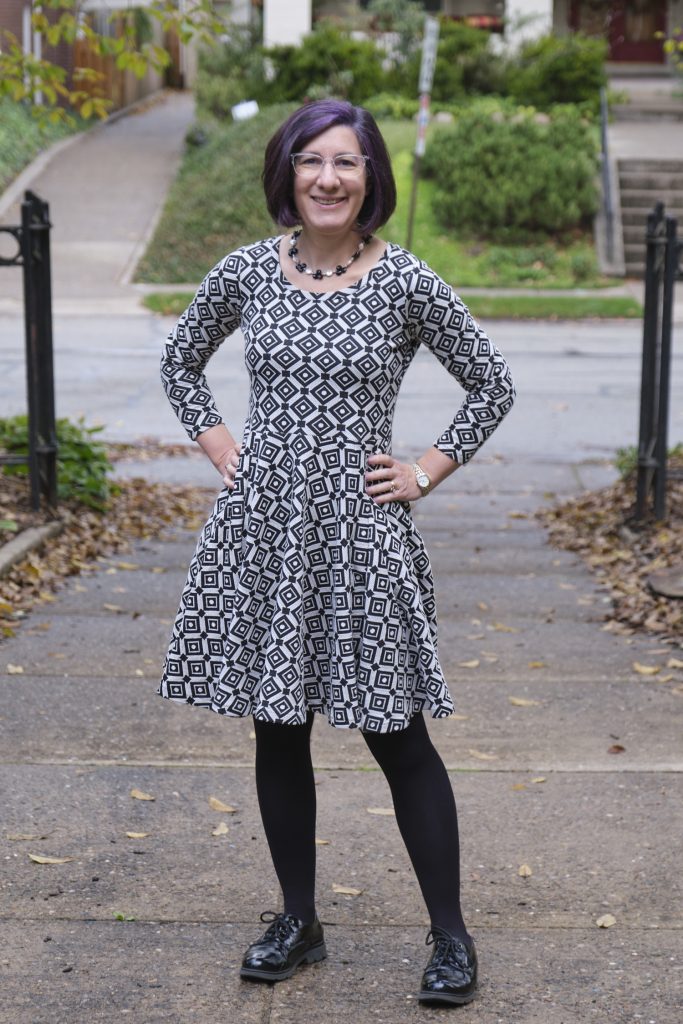 I made the pattern mostly as written, lengthening the bodice as recommended when omitting the waistband. I also used my Bondi screwp neck modification, as I have done for my previous Valley dresses. This time I sewed the pockets to the waistband as the pattern suggests, since this is a pretty stable knit and I wasn't worried about the pockets getting pulled down. I did lengthen the pockets by about an inch to reduce the risk of my phone falling out. The pockets on the finished dress are great and with the full skirt they are nearly invisible, even when full.
This is the first Valley I sewed with a serger, and it went very quickly. It only took about 3 hours to sew after cutting the fabric. Of course, it took a while to hem the 13-foot circumference full-circle skirt. But my teen daughter approves and says the full-circle skirt was definitely worth the effort. Indeed, this is a dress that really is fun to wear.