I first found the Sinclair Patterns company because I was looking for a skater dress pattern. I ran across their free valley skater dress pattern, but the skirt wasn't exactly what I was looking for, so I went down the whole rabbit hole of drafting my own. But I saw their Alana dress pattern and after sewing a couple of Alana dresses, went back to the skater dress and found the add-on skirt pack. I liked the half-circle skirt option and bought the pattern. I've since made three valley skater dresses out of three different types of fabric and have a fourth planned.
On all my Valley dresses I've used the half-circle option, above-knee length, with pockets (lengthened about an inch to make sure my phone doesn't fall out), and have replaced the neckline with a screwp neck. All are comfy and fit well. All are size 4P with no size alterations. The add-on skirt pack has lots of other nice skirt options and some day I may make those too… but for now, they are all half-circle skirts.
I made my first Valley Skater dress with a medium-weight, very soft and cozy cotton lycra (CL) fabric. I thought this would be a nice dress for cooler weather. Unfortunately, this lovely, cozy fabric does not have good recovery and I ignored the warning on the pattern about using fabric with good recovery. What does this mean exactly? Well it means the fabric stretches out as you work with it and it does not completely return to its unstretched length. As a result, my long sleeves ended up dangling around my fingertips, the above-knee length hits closer to at-knee length, and no matter how much I press it, I cannot get the waves out of the waistband. The sleeves were easy to address… I just lopped off two inches before I hemmed them. I left the length as-is. I tried futzing with the waistband a bit, and gave up and decided it is a casual dress that I will usually wear with a jacket or sweater, so I would just deal with a wavy waistband. Not my best effort but it is still comfy.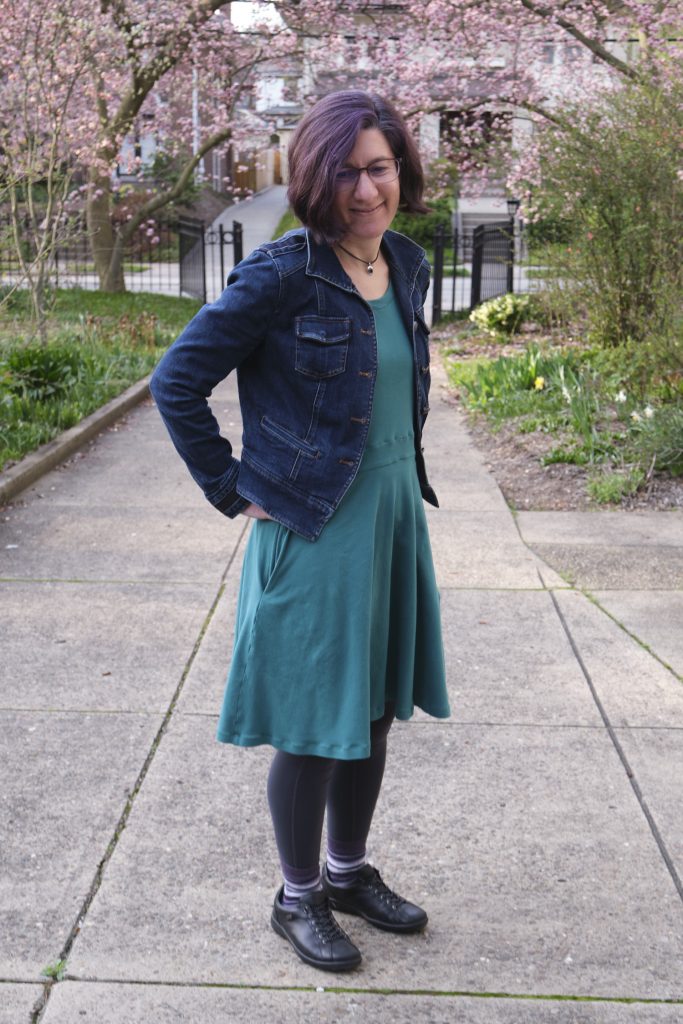 A couple of months later, I used a soft double-brushed polyester (DBP) floral print for my second Valley Skater dress and sewed the short-sleeved version. This time I altered the pockets so that they attach only to the sides and do not connect to the waistband. I've found that when I put my phone in my pocket, it pulls down on the waistband if the pocket is connected and the fabric is stretchy (I have this problem in me-made as well as ready-to-wear dresses). So I figured I would give side pockets with no waistband connection a try. Because DPB is so stretchy I decided to line the waistband with a medium-weight cotton lycra (not the green CL with poor recovery!) to give the waistband more stability. I don't know if the CL lining was necessary, but it doesn't hurt.
I'm very happy with how this dress turned out. The dress fits perfectly and looks great from the front and the back, even when I fill the pockets! I love the swishy half-circle skirt, which is very flattering and has some nice movement, but is not too prone to Marilyn Monroe moments. I've had random people on the street stop me to complement me on this dress. And it looks good with dress shoes or sneakers (admittedly, I will almost always wear it with sneakers).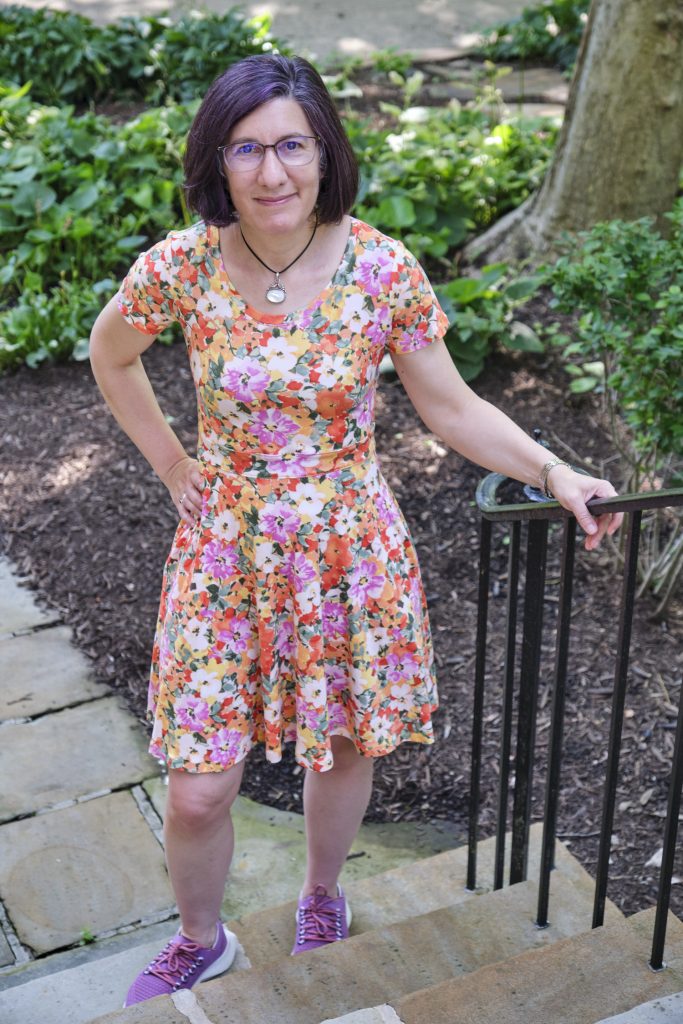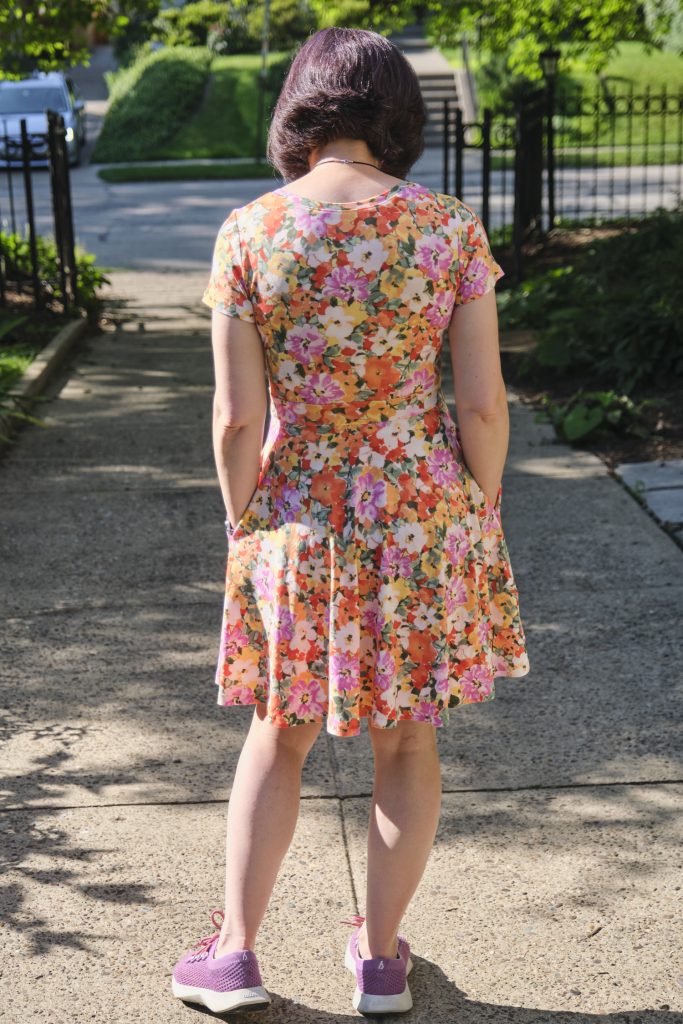 I made my third Valley Skater dress just a couple of days after finishing the second one. This time I used a smooth polyester interlock twist yarn (ITY) fabric. I decided to omit the waistband and followed the instructions to lengthen the bodice about 1.25 inches. I used the same pocket alterations as I used for the second dress. This time I raised the back of the screwp neck a tad and shrunk the neckband accordingly. I had a bit of an issue with the waist stretching and seams popping when I take the dress off, so I had to reinforce the waist seam with wide zigzag stitches (I normally sew all my knit seams with a very narrow zigzag stitch).
The dress without the waistband is also great and ITY is a nice fabric choice for this pattern as well!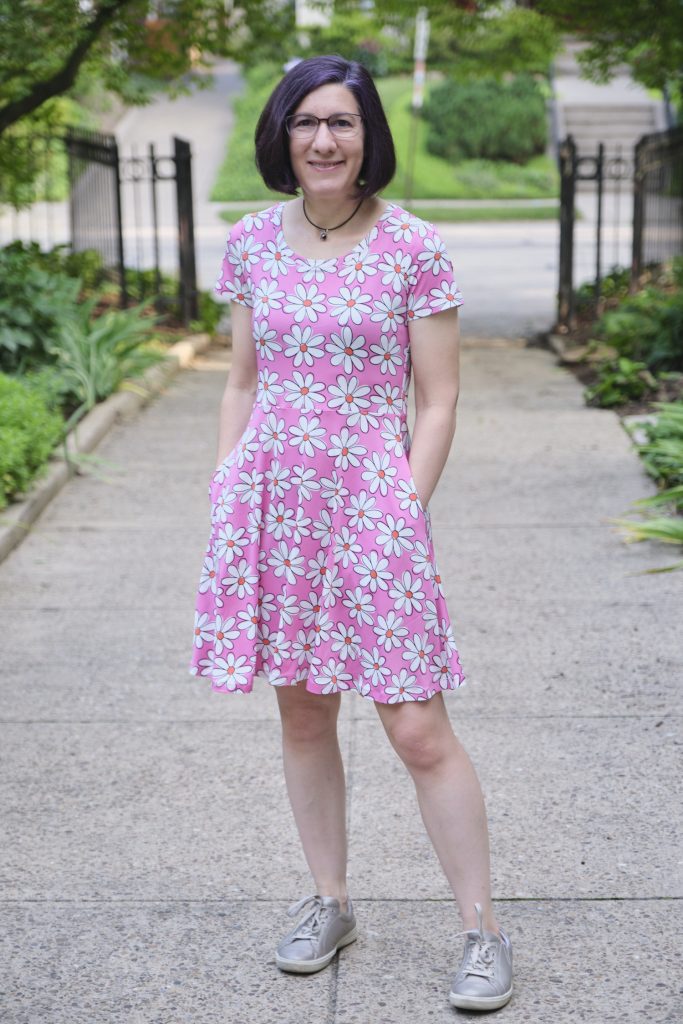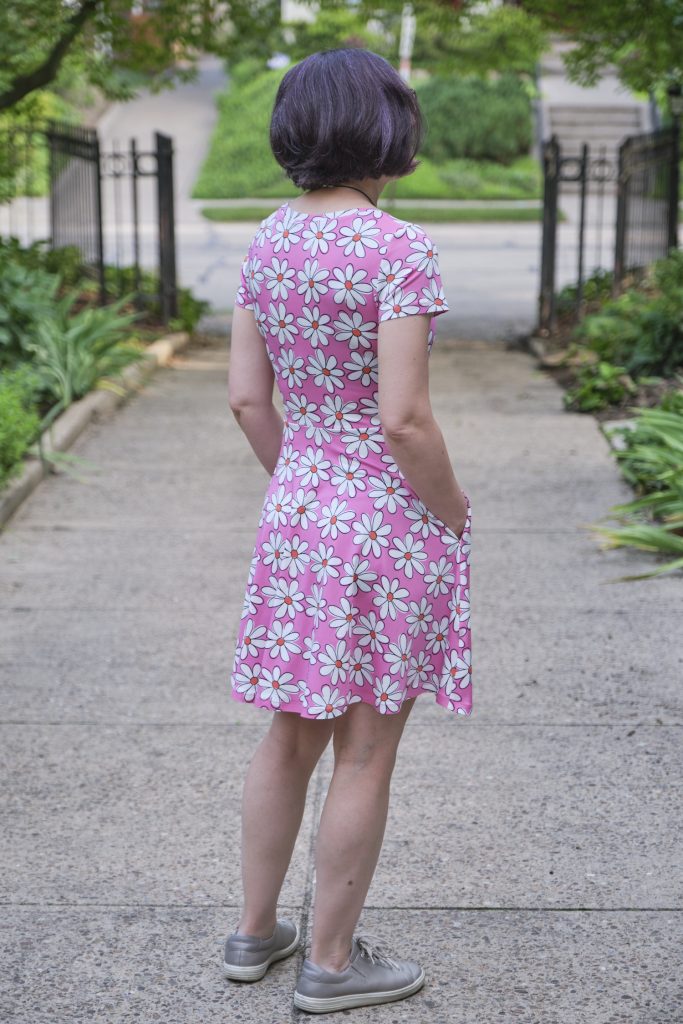 Stay tuned for the fourth dress, currently in planning. I have some heavier-weight fabric in mind for it and am thinking long sleeves and a knee-length full-circle skirt. But it's 85 degrees outside right now so this may not happen for a little while.