I have two more white whole wheat bread machine recipes to share today: a brown bread and a white bread.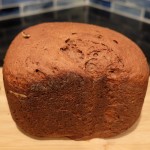 The brown bread is a pumpernickel bread based on one I found on the back of a bag of Arrowhead Mills Organic Rye Flour. The brown color comes from using cocoa powder. Most of us in my house liked the original recipe pretty well, with it's nice tangy flavor. But some in my house are partial to sweeter breads, and liked it better when I used honey instead of molasses. One lone holdout does not like caraway seeds at all and would not eat it until I made the recipe with flax seeds instead of caraway. Sesame seeds would probably be nice too, or you could leave out all the seeds. Download the recipe for Whole Wheat Pumpernickel Bread here.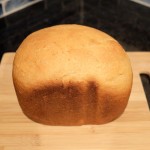 The white bread is an oatmeal honey bread. This is a basic bread that is simple, but really tasty. I add dry milk for some extra protein and a slightly softer texture, but you can omit the dry milk for a non-dairy version that isn't much different. Download the recipe for Whole Wheat Oatmeal Bread here.