For years I have been buying scoop-neck long-sleeve t-shirts in a light-weight cotton blend from Landsend.com. I'm not a big fan of woven button-down blouses. These t-shirts are dressy enough to wear under blazers, the scoop is not too low, and they come in petite sizes so the sleeves aren't too long. I have bought them in all the colors they come in that I like. But over time they get stained or worn out. This was not a problem until a few years ago when Landsend stopped making them. So when I discovered the Sinclair Bondi classic fitted t-shirt pattern, I decided to try making my own long-sleeve t-shirts.
I made my first Bondi in size 4 petite using a black cotton lycra fabric with a scoop neck and elbow sleeves (because I had only 1 yard of fabric, which isn't enough for long sleeves). I liked the fit but found the waist a tad shorter than my preference and the scoop a bit narrow. I made my next Bondi with a yellow cotton lycra print, the wide scoop neck, long sleeves, and an extra inch in length and graded in a bit from the waist down. I don't seem to have taken photos of these two shirts, maybe I'll do that later.
For my third Bondi, I used a fabric pattern I designed and printed on modern jersey at Spoonflower.com. (The pattern is based on my interleave quilts.) Once again I went with the wide scoop neck, long sleeves, added inch and slight grading. I really like how this one fits but wish the neckline wasn't quite so low.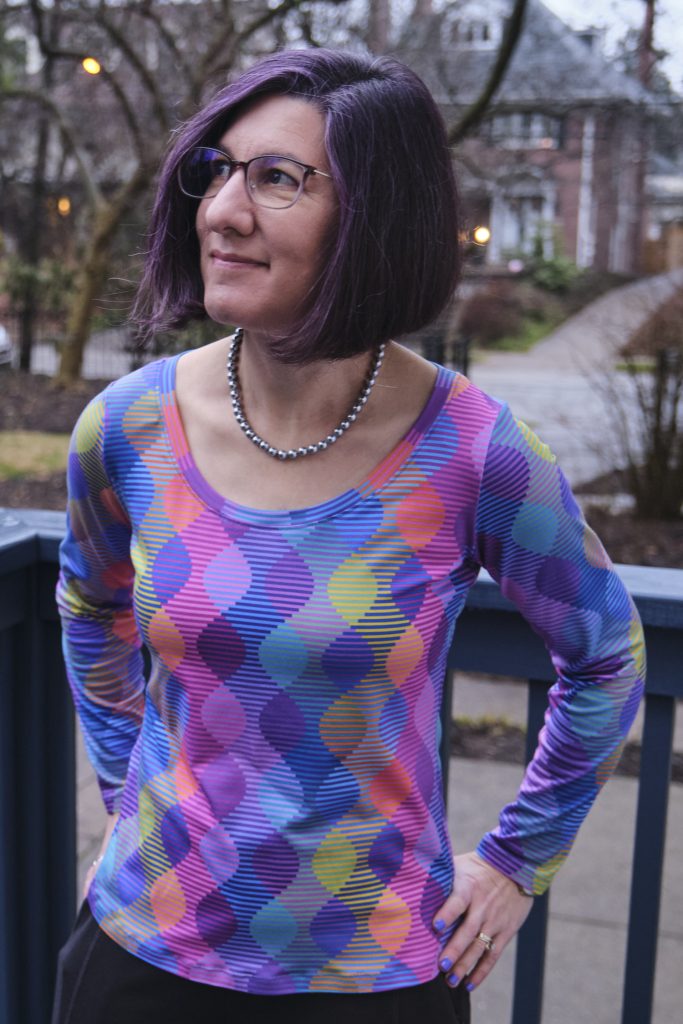 Next I collaborated with my 16-year-old daughter to make a crew-neck Bondi for my mother-in-law's 80th birthday. My daughter designed the fabric and we printed it on modern jersey at spoonflower.com. We used coordinating turquoise DBP for the neck band and sleeves.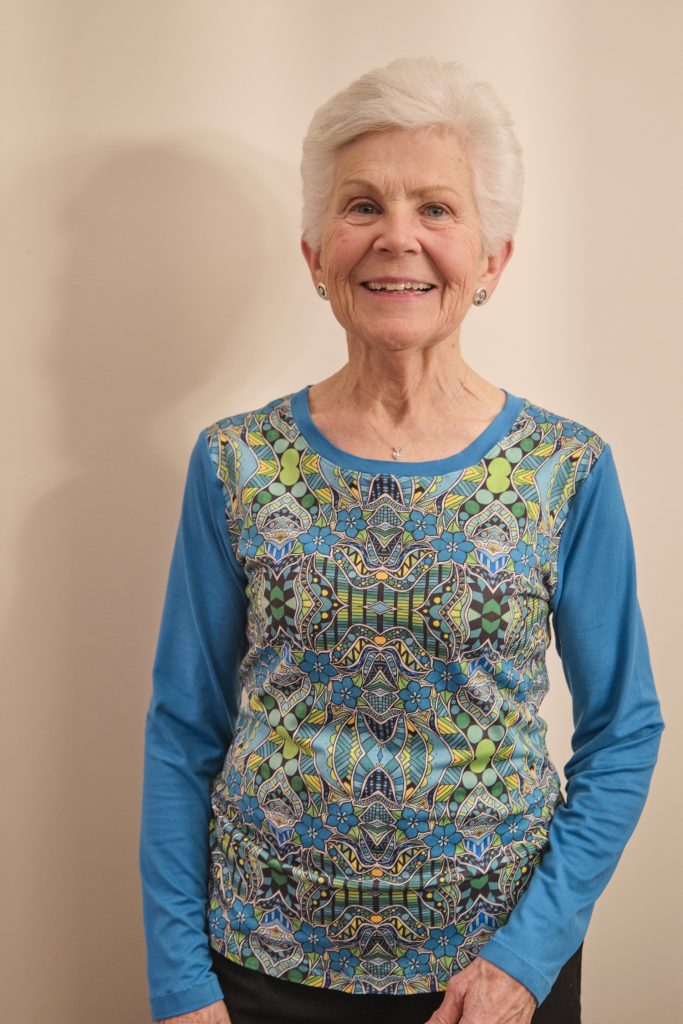 I made my next Bondi in red and white polka dot DBP to wear to my daughter's robotics tournament and cheer on her team, the Girls of Steel, who have a Rosie the Riveter theme.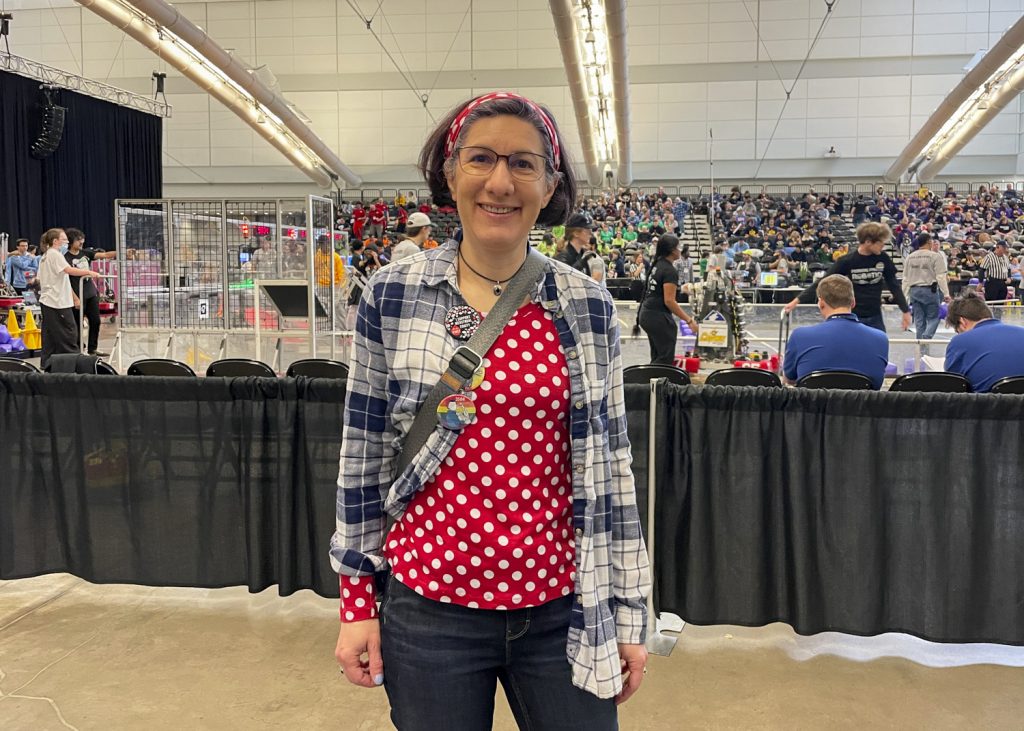 I wanted to try a neckline in between the crew and the scoop — I call it a screwp. I used the neckline and band for a size 26P crew on a size 4P bodice. If you were starting with a larger size I think you could achieve the same thing by using the scoop neck and band from a much smaller size. The Bondi pattern has nice notches on the neck band with matching notches on the bodice so that you can easily line things up and get the right stretch in your neck band, so it's nice to have this and not have to guess.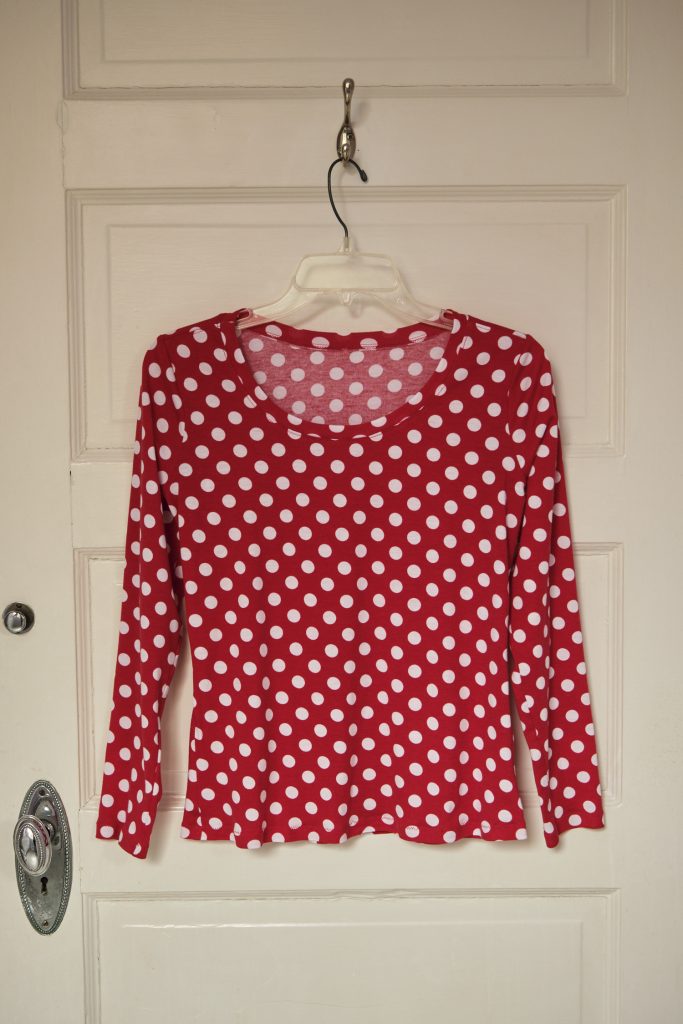 Showing the screwp side-by side with a regular Bondi crew neck and scoop neck.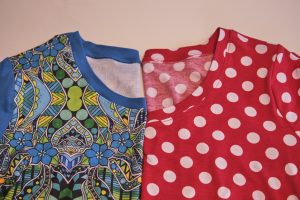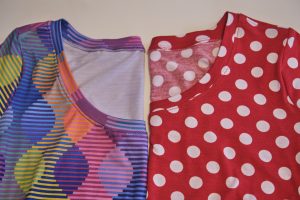 Having now achieved t-shirt perfection, I have no choice but to make more.
July 2023 update: Ok, not quite perfection. The back of the screwp is a little bit lower than a normal neck in my size due to using the larger size template. I've been grafting this neckline onto other tops and dresses and have decided to raise the back about half an inch and shorten the neck band by about an inch. Now we have perfection!