I feel strongly about pockets. When I sew my own clothes I make sure they have pockets large enough to hold my stuff. It is very frustrating when I buy ready-to-wear clothes with inadequate pockets. I've seen blazers advertised as having "adorable faux pockets" that make me want to scream. There is nothing adorable about faux pockets. But even worse, perhaps, is buying a pair of pants with pockets, only to find out that my phone does not fit in them, or that it fits but slides out every time I sit down. My husband can fit his phone, his wallet, his keys, a tube of chapstick, some change, and other odds and ends in the front pockets of every pair of pants he owns. I should be able to do that too!
What about the back pockets? Pocketing a phone in a back pocket may be ok while standing, but on me, back pockets are usually placed such that I end up sitting on my phone, which can be uncomfortable or cause the phone to fall out of my pocket. Plus, putting valuables in back pockets makes you more of a target for pick-pockets.
With pleated pants, a phone can often be completely concealed in a front pocket if the pocket bag is deep enough. However, with tight fighting pants made of stretch fabric, it is hard to avoid a phone bulge. I can sometimes fit my phone in the pocket horizontally, but it produces a bulge across my stomach that isn't very flattering. I personally prefer to see that bulge further down the leg or more on the hip, but that requires deeper pocket bags.
I have started seeing some women's pants advertised as having "utility" pockets. The best I can tell these are special pockets that are actually large enough to be used. Shouldn't all pockets have utility?
I have started retrofitting the pockets of my pants that otherwise fit well, adding pocket bag extensions. It's actually not that hard to do. Here's how I augmented the pockets bags of a pair of black dress pants recently.
Here's the pants turned inside out. You can see that the original pocket bag is big enough to hold a credit card and not much else. My cell phone fits, but as soon as I sit down it slides out.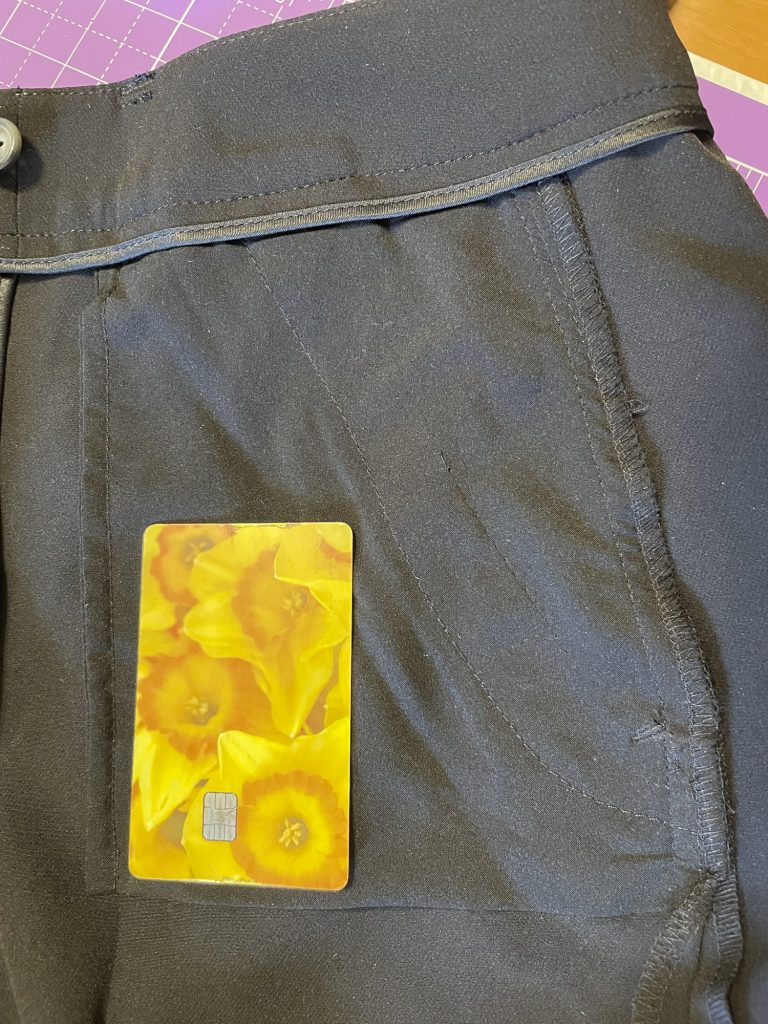 To improve this situation, the first step is to figure out how much you need to add to the pocket. I like my pockets to be long enough so that my phone will sit entirely below my hip crease when I'm sitting down. If my phone sits above the crease, it will fall out. If it sits in the middle of the bend, it will be uncomfortable to sit down. For this pair of pants, the pocket bag needed to be about 3.5 inches longer. So I cut 4 pieces of fabric 6 inches wide by 4 inches tall. You can use any sort of lightweight fabric for this. Generally people use woven fabrics for pocket bags. But I used some ITY with a little bit of stretch for these pants, which can be a little more forgiving as you sew.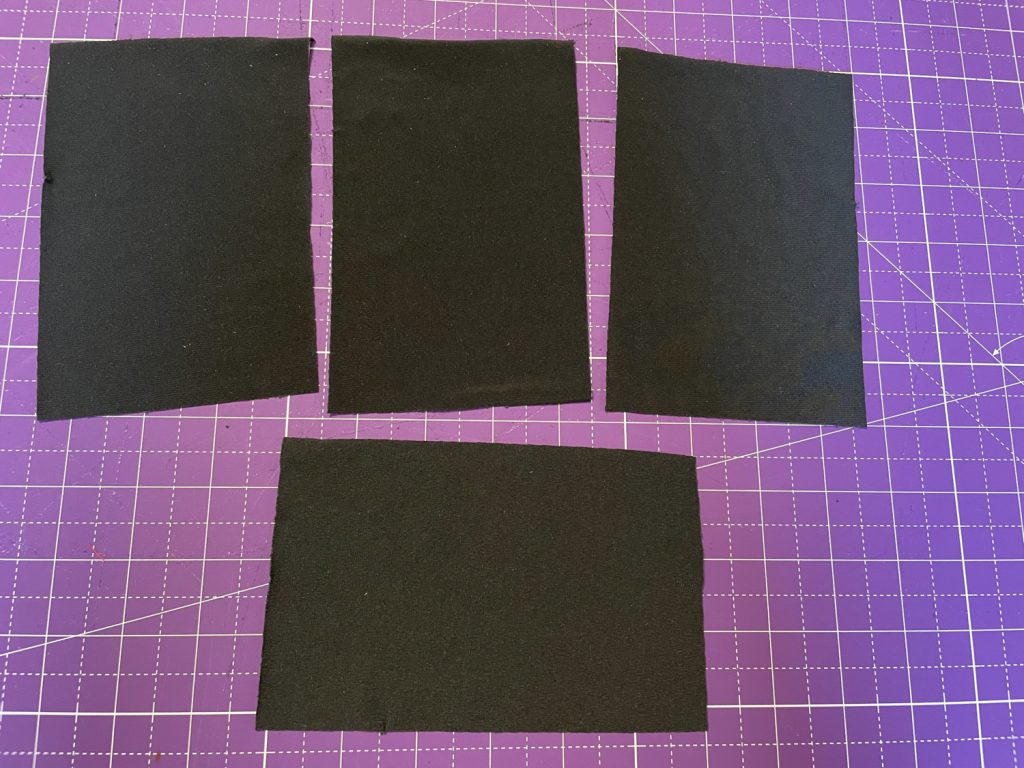 The next step is to turn your pants inside out, slit open the bottom of the existing pocket bag, and pin one piece of the new pocket bag material to the inside of the old pocket bag. If the bottom of the pocket bag is rounded, you may want to square it off. I think it works best when the seam is on the outside of the pocket so nothing catches on it when you put stuff in the pocket. Once the pocket piece is pinned, carefully sew it on. This requires some tight maneuvering with the sewing machine. Alternatively, you can use a fusible tape to fuse the old and new pocket pieces together, and then zigzag to secure.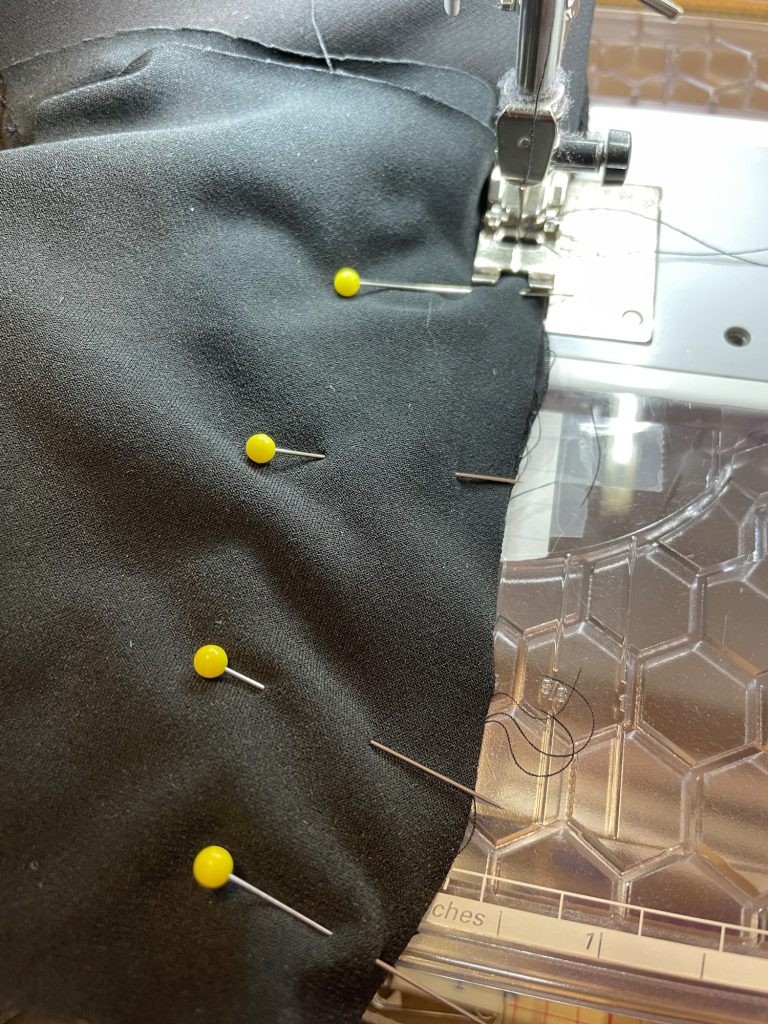 Then pin an sew the other new pocket piece on.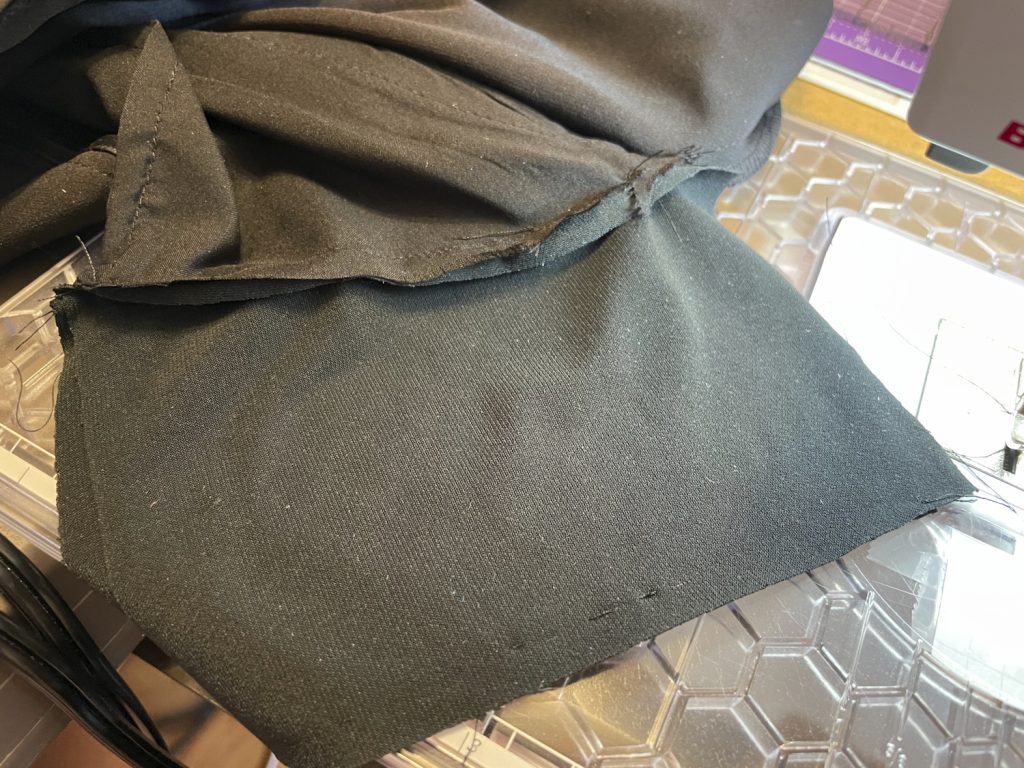 You will then have a pocket bag with two flaps on the bottom. It is not a very useful pocket at this point because it is completely open at the bottom. The next step is to sew around the three open sides. If the original pocket is anchored in the side seam of the pants, you can attache the pocket bag extension to the side seam too.
And that's it. Now you have and extended pocket big enough to actually hold your stuff. Once you have sewn a couple of pockets this way, you will probably be able to do it without any pinning. It is important to realize that without a lot of unpicking, it is nearly impossible to make all the seams line up perfectly due to the limited space you have to maneuver, but it doesn't really matter. As long as your pants are not see-through and any gaps you have are not so big that anything is in danger of falling out of your pocket, nobody is going to see the gaps in the pocket bag inside your pants and it will not impact the functionality of the pocket.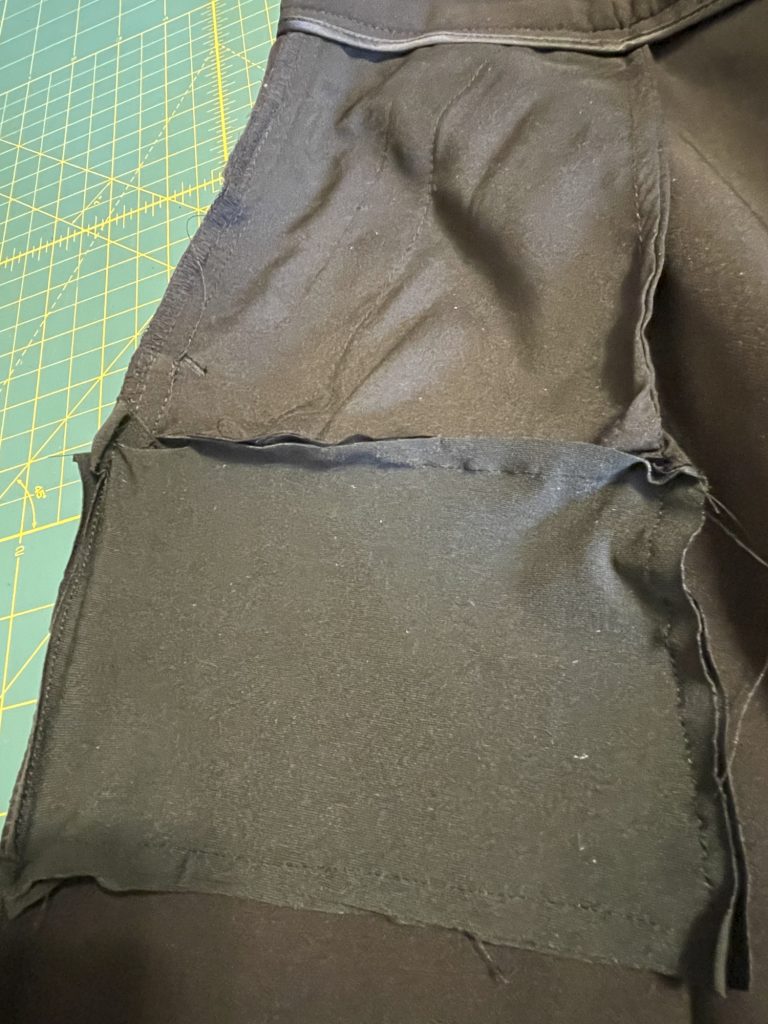 Here are two other pants with extended pocket bags: a pair of pleated flannel dress pants and a pair of wide-leg stretch cords. I used scraps of quilters cotton for these. The grey pants only needed a small extension, but it made a huge difference in having my phone sit comfortably and not fall out. When I wear this pants with a phone in my pocket, you can't really tell. The cords needed a longer extension, Although these are wide-leg pants, they are fairly tight at the waist. With the original pockets, my phone produced that ugly waist bulge. Now the phone sits just below my hip crease — it is still visible, but I think it looks better there.