It's been a while since I've posted an update, and I've got a bunch of random things to say… so forgive me as I ramble.
I'm working on a quilt that is bigger than I am now, so no, it is not done yet. It's been in the works for about a month now, and maybe I will tell you more about it in my next post.
I've been distracted by some not-so-sabbatical-conducive activities, like start a new masters program to train privacy engineers. Really that is not the sort of activity one should do on sabbatical. But in order to have a new program start next fall, the program had to get approved and we needed to start recruiting now. Besides work on the curriculum and lining up faculty, there was some political wrangling to do. Now all we need is students. Tell your friends to apply.
I'm trying my best to stay out of my office when it is not Wednesday. Unfortunately, that's not always possible. But my students are helpfully chastising me whenever they see me in my office on a day other than Wednesday.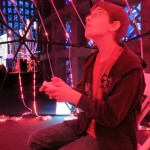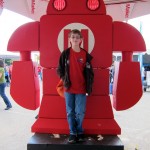 The STUDIO organized a bus trip to the World Maker Faire in NYC at the end of September. That seemed like a good sabbatical activity, but the thought of an overnight trip (the bus was leaving Pittsburgh at midnight) with a bus full of students was not appealing. Yes, I did a red-eye to Barcelona earlier this year, and a few hours later put on a suit and spoke in front of an audience. But I flew business class. I may be too old to sleep on a bus and end up remotely coherent the next day. So I decided to spring for a plane ticket, two actually… I brought my 11-year-old son with me too. Getting to the airport in the morning turned out to be an unexpected challenge (who knew that busses stop running 2 hours before the Great Race starts?), but after that we had a great day. Maker Faire is full of cool stuff as far as the eye can see. I was on the lookout for LEDs suitable for sewing into quilts, and I did get some good ideas. Shane was enthralled by all the 3-D printers. We watched battery-powered go-carts race in the rain (the rain ponchos I had stuffed in Shane's backpack came in handy!), and enjoyed a display of dozens of mentos-laces soda bottles spraying their contents high into the air.
I've had my big screen movie debut in the feature-length documentary CODE 2600. In October we hosted the Pittsburgh premier at CMU and I moderated a panel discussion with the filmmaker. I actually have a very small part, but the rest of the movie is good, and I've got my own IMDb page now.
I ran my second 5k race, Run Shadyside. I'm really not a runner. I don't run fast. A nine-year-old neighbor ran faster than I did. I don't run when it is hot. I don't run when it is cold. But I ran the whole way, and I finished. I even "trained" for a few weeks beforehand. It is cold now. I probably will not run again until Spring.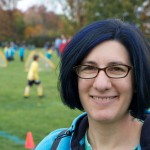 Eight weeks into my hair dye experiment, most of the blue had faded, leaving me with streaks of greenish grey hair, with a few bright turquoise streaks peaking out. It is a mystery to me why some strands stayed blue while the rest faded. They do, after all, reside on the same head. I wasn't thrilled with the faded look, so I headed back to my hair dresser for another round of blue. This time there was no need to bleach my hair so she went straight for the dye, and left it in a really long time in hopes that it might last longer this time around. This resulted in turning the bleached hair a very dark indigo blue and the surrounding brown hair a dark navy, almost black. In low light, my hair looks black, but in the sun there are nice indigo highlights. Now almost two weeks into the second round of blue, it is still very dark.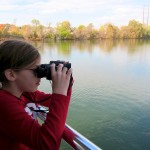 A really good sabbatical activity at the end of October was chaperoning a fourth-grade field trip on RiverQuest. Normally I don't have time to spend the day on a field trip, but I'm on sabbatical, so why not? It was a beautiful day on the water, the fall leaves were gorgeous, and the trip was really interesting. I took a lot of photos. The kids learned a lot about the health of the three rivers. They collected water samples and ran various test on the water, collected mud samples and looked for macro invertebrates, and collected plankton samples and tried to ID various plankton and microorganism. It was really a fun day!
Another project, nine years in the making, is a new kitchen for our house. I never liked the kitchen from the time we bought the house. But it took a while to figure out what I wanted instead. After much planning, construction has begun. We have now survived 10 days without a kitchen. There's a lot you can do with a microwave and a toaster oven, but cooking without a sink is kind of a pain. The contents of our kitchen, pantry, and mudroom have been spread throughout the house.  Our old kitchen has been stripped down to its bare studs. Our contractor was somewhat surprised by how the walls are being held up. A beam expert will advise next week….
People often travel a lot on their sabbaticals, but since this is a staybatical, I'm trying to keep travel to a minimum. I actually made it through most of September and October without leaving Pittsburgh. But at the end of October I headed to Williamstown, MA to give two invited lectures at Williams College. I enjoyed my visit, and got back before Frankestorm arrived. Going to Williams was also a good excuse not to go to Uruguay for a privacy conference.