I love the Sinclair seeing all the things people make and post to the Sinclair patterns Facebook group. It's exciting when a new pattern comes out and all the testers post what they made over the first few days. There are some sewists who seem to test every pattern, and many of them make several versions when a new pattern comes out. I assume they don't have the sort of day job that I have, and maybe they sew faster than I do. Or maybe they have a serger? Maybe I should get one? Anyway, I'm enjoying their posts and I feel like I'm starting to get to know some of the regulars.
I've been tempted by the last few calls for pattern testers. I've now sewn over half a dozen Sinclair patterns, so maybe I could get selected. But generally you have only 3 or 4 days to make the pattern, and that usually doesn't fit my schedule. But when Sanna Sinclair announced the call for testers for their new Linda twist neckline knit top and dress pattern, I checked my calendar and saw that the timing might work. I filled out the application form and waited to see if I would be selected. Early Friday morning I got the email from Sanna Sinclair with the link to the test pattern, the private tester Facebook group, and a request to finish a garment and post fit pictures by Sunday evening.
By the time I got home from work on Friday, the first testers had already finished their tops and posted photos. I thought about getting right to work on mine, but first I had to finish sewing a pair of black Cleo palazzo pants (to match mine) that I promised my daughter. I got those done Friday night and selected fabric from my stash and decided to sew a top rather than a dress, as I was a little concerned about whether I would have enough time for a dress.
The pattern called for very drapey fabrics, so I selected a medium weight modal-spandex knit in turquoise. This was my first time sewing with this type of fabric. It is soft and stretchy like double-brushed polyester, but more breathable and a little less tightly knit. I think it has less body and a more fluid drape, which makes it a little bit harder to work with, but it is very comfortable to wear and it suited this pattern well.
On Saturday I projected the pattern on my fabric, cut it out, and began to sew. I periodically checked the Facebook group to see what other sewists were working on and their comments on the pattern. One small error on the pattern was caught early on and a clarification posted. There were concerns about a few fit issues, but otherwise people seems to be doing well with this pattern. The completed tops and dresses looked pretty good. I thought about making a dress instead of a top, but decided not to over reach on my first pattern test.
I followed the instructions without too many issues. Doing the twist itself was very easy, in part due to the short video provided with the pattern that demonstrates exactly how to do it. I had some trouble overcasting the flimsy fabric with my sewing machine and contemplated buying a serger. I think I will buy one as soon as I figure out which one. I had some pressing issues, again mostly due to this particular type of fabric, but eventually I got them sorted out. The sleeves were a tad too short and the length was a couple of inches too long. So I used a narrow hem on the sleeves and chopped off some of the length before hemming the bottom. I observed the same problem with the keyhole flopping open as everyone else in the Facebook group, and followed the advice to hand stitch it closed. I posted my feedback and my V1 fit photos. All of these problems have been corrected in the final pattern so you shouldn't have these any of these problems.
Monday morning Sanna posted her comments on our feedback and her plans for adjusting the pattern. She announced that V2 would soon be available the next day but said it was fine to take final photos of our V1 creations. So I put on my new shirt and asked my husband to snap some photos. When I got home from work I selected my favorite photos and uploaded them. I had a busy week at work and did not have time to make a V2 top, let alone a dress. But I enjoyed watching the Facebook group and seeing the sewists who had time to create several garments from this pattern over the course of the week.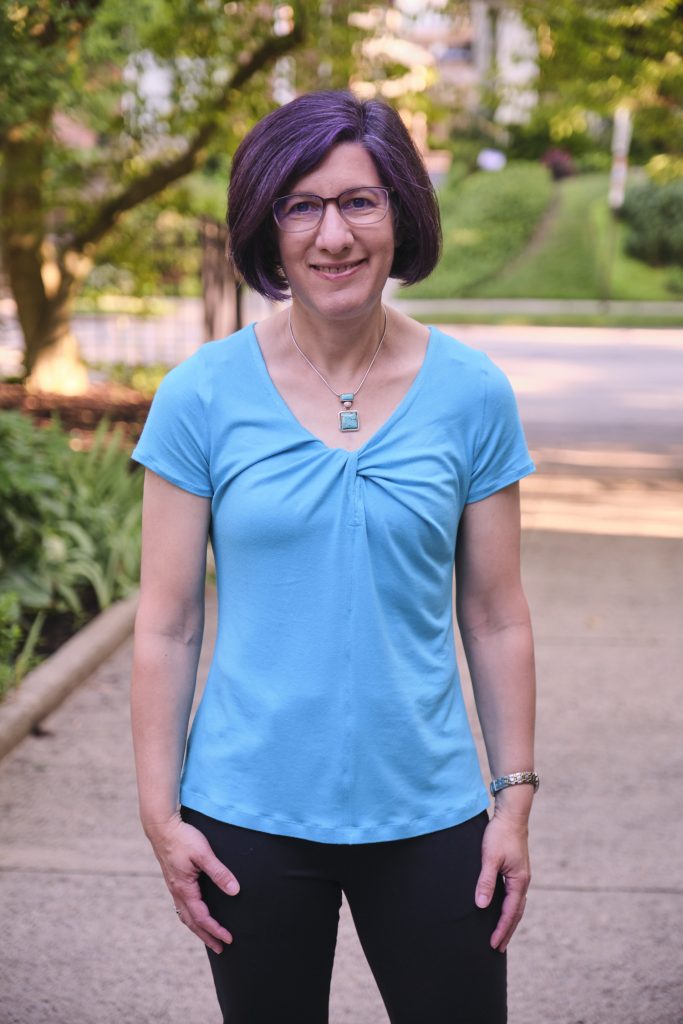 I usually like to wear twistneck tops. I had a couple of ready-to-wear dresses with twistnecks, and found I kept futzing with and repositioning the twist as they never seem to lie perfectly right, and I just can't leave well enough alone. I have to admit I did my share of futzing with this one as I was sewing it. But once I got it set I let it be and it stayed put. Then my husband washed it and called me over as he pulled it out of the dryer because he thought the twist had gotten messed up. But it happily popped right back into position. I expect with a more substantial fabric it would not have popped out at all. I will probably make more of these some time (maybe in ITY, double-brushed polyester, or cotton lycra). I love some of the results other testers got sewing this pattern with prints. I still love the simplicity and fit of the Bondi top and think that style works better under sweaters and blazers since it is smooth and symmetrical. But Linda is a cute top for wearing on its own that looks more elevated than a basic t-shirt, but is just as comfortable to wear.
This morning was the pattern launch and I was excited to see that the first two photos on the Linda pattern web page were mine!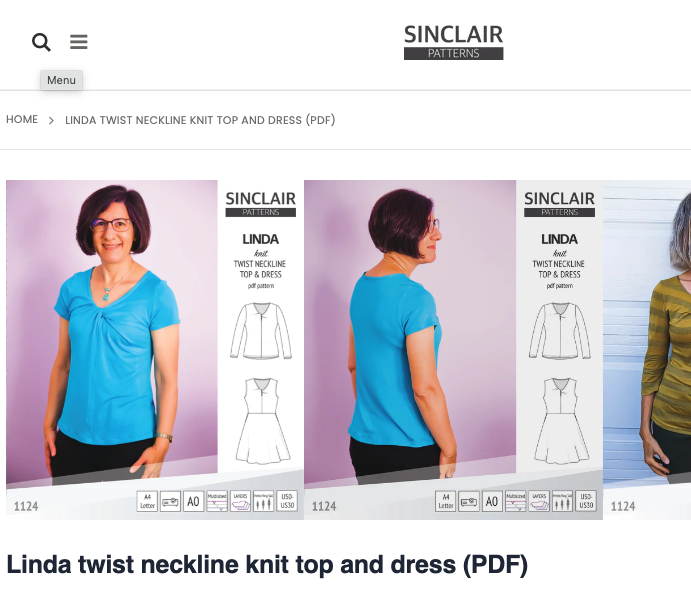 It was fun to be a pattern tester and if Sinclair does another test at a time when my calendar is relatively clear I will definitely sign up to do it again. Also, this is such a good excuse for keeping more fabric than I really need on hand… these testing opportunities come up quickly and there isn't time to shop for more fabric on short notice!