After sewing mostly quilts for a while, I was inspired to sew a dress again last summer (2022) because I wanted a dress to wear to the Symposium On Usable Privacy and Security (SOUPS) 2022, a conference that I started in 2005 and is still going strong. I thought it would be fun to have a dress that had soup on it. I thought about a soup-can dress channeling Andy Warhol, but eventually settled on a bright noodle soup pattern called grandma's recipe, designed by Daniela Friedenthal and available at spooflower.com. I had the fabric printed on modern jersey, and then tried to figure out how to sew it.
Sidebar 1: I love Spoonflower modern jersey! It is one of the best polyester jersey's I have found with a feel similar to cotton, but brighter colors. It is similar to double-brushed polyester (DBP) but has a little bit more body than most of the DPBs I've used. The main downside is it is about 4 or 5 times more expensive than DBP and only available for custom printing, not colored solids.
My previous me-made dresses were very simple, sewn from two pieces of fabric with no pockets. This time I wanted a half-circle skater dress with pockets and some better finishing details. I started reading sewing blogs and learned how to sew side-seam pockets and create neck bands and bindings and make smooth knit hems with Soft Stretch hem tape. I reverse engineered some dresses from my closet and drafted a pattern, trying to include enough ease so I wouldn't need a zipper.
Sidebar 2: I also love Heatnbond Softstretch for knit hems of all sorts. I fuse the tape to the edge of the hem, turn under the hem and press using the paper backing edge as a guide, then peel back the paper and fuse the hem in place, then zigzag over the edge. I've used this on dress, shirt, sleeve, and cardigan hems with great results. It even works on curves — you just have to nudge the paper backing around the curve as you press it. I now keep a couple of rolls around at all times so I don't run out in the middle of a project!
The finished dress worked pretty well. The waist ended up a bit looser than I wanted and the pockets pulled the waist down a bit when I put stuff in them. But a sweater easily hides the imperfections. It is a fairly striking looking dress because of the unique fabric, and I have had total strangers comment on it.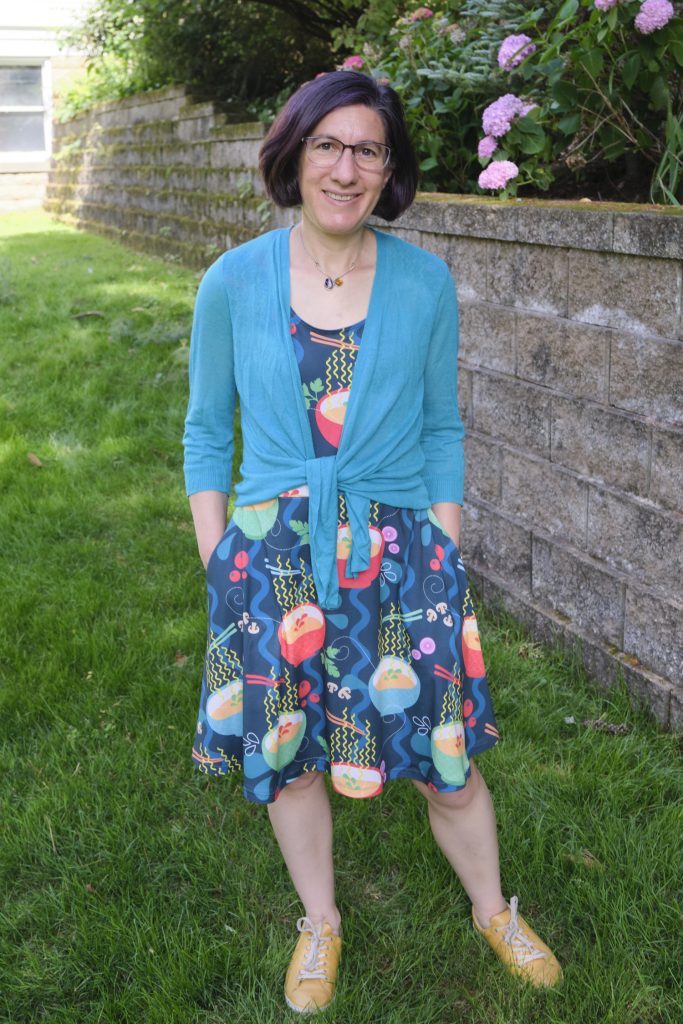 While I wasn't 100% satisfied with the SOUPS dress, I decided it was good enough that I wasn't going to remake it. But I wanted to improve my pattern and give it another go. So adjusted the fit of the waist and the pockets a bit and sewed the dress again, this time in soft blue vintage tea cups fabric designed by Cecilia Mok on spoonflower.com. I chose cups because the name of my lab at CMU is the CyLab Usable Privacy and Security (CUPS) Laboratory. I also went on a quest to find a spoon pendant I could wear with both dresses. Most of the spoons I could find online were either too tiny or too big, or were designed for functional use as drug paraphernalia. I eventually bought a 25 pack of spoon charms for less than $10.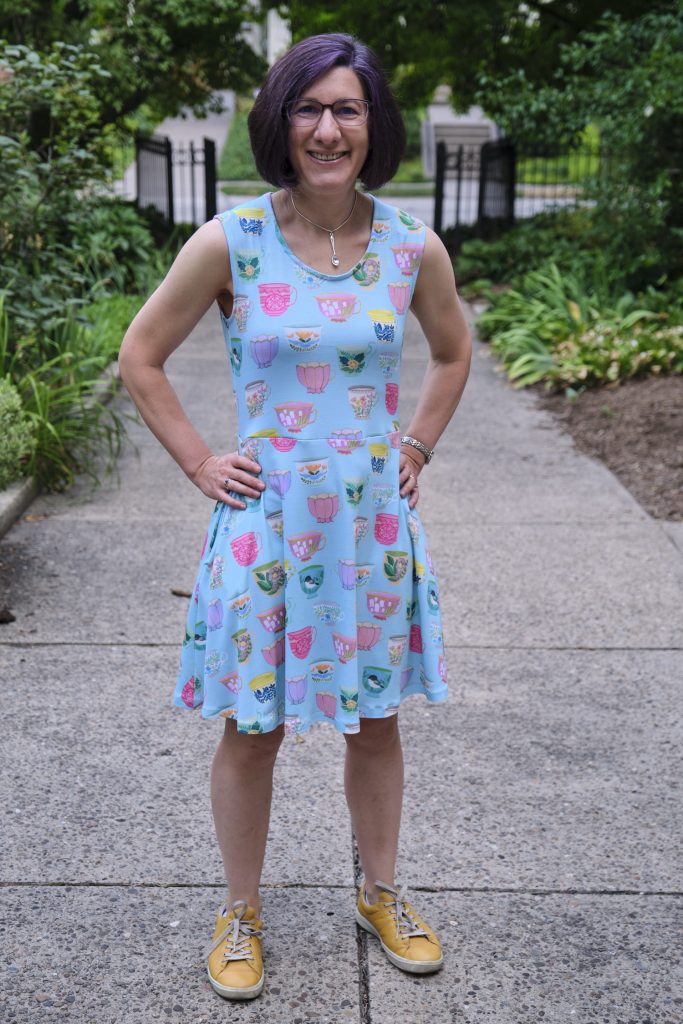 The CUPS dress came out considerably better, but in my further reading about sewing skater dresses, I discovered a free PDF skater dress pattern from Sinclair Patterns. Then I discovered Sinclair's other patterns and one thing led to another. Watch for future blog posts….