I finally sewed something for my husband. Sinclair has a bunch of men's patterns and the sewists in the Sinclair Facebook group often post smiling photos of their husbands and sons modeling their creations. After Chuck recently went through his drawers and removed a mountain of old long-sleeve t-shirts with holes in them, I decided to sew him some new ones. He loves striped shirts, so I have been on a quest to find good yard-dyed striped fabric in t-shirt weight knits (which is surprisingly difficult, pointers to good sources welcome).
I selected the Sinclair Kai semi-fitted crew neck t-shirt for men pattern. This was very easy to sew and is essentially the same as Sinclair's Bondi t-shirt pattern for women, but with a different cut and sizing. The instructions for measuring and fitting were clear. I ended up making only a minor adjustment, grading between two sizes on the lower half of the bodice, but the pattern offers instructions for addressing more difficult fitting problems. I also shortened the sleeves and the bodice by about 1.5 inches before hemming. With my serger each of these shirts took only a couple of hours to sew.
For my first Kai, I selected Surge's Sedona mini stripe jersey in Tuscon sun (a gold color). It is a lightweight stretchy fabric that is a blend of rayon, cotton, polyester, and spandex. It's great for drapey summer-weight tops (maybe a summer cardigan), but ended up being a little too light and slinky (as Chuck put it) for a long-sleeved men's t-shirt. It works fine as an under layer, and he was seemed happy with it none-the-less.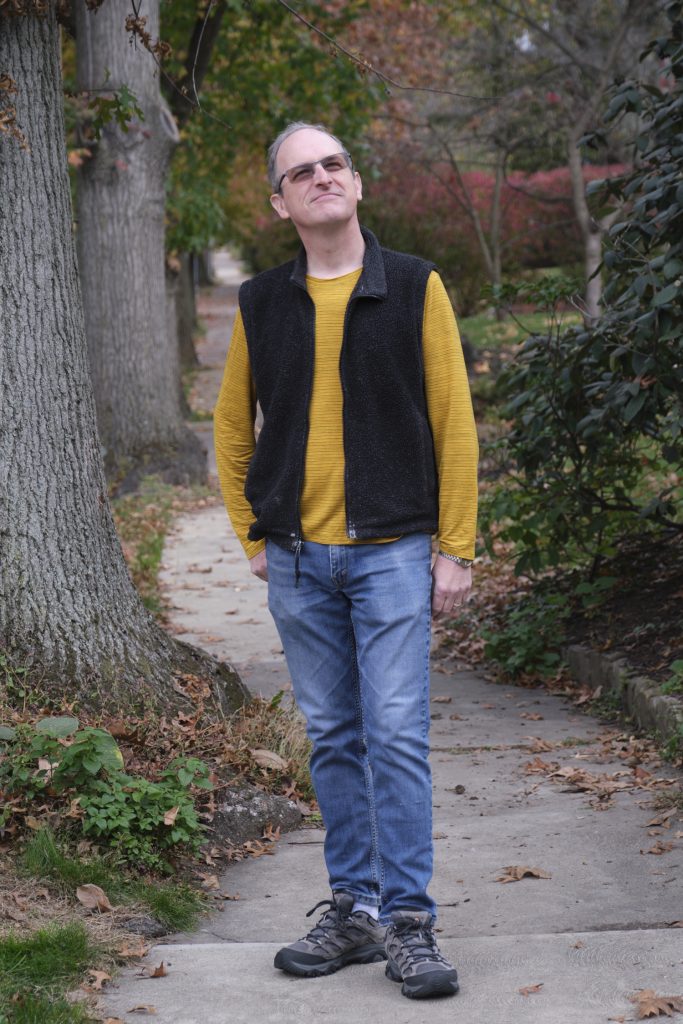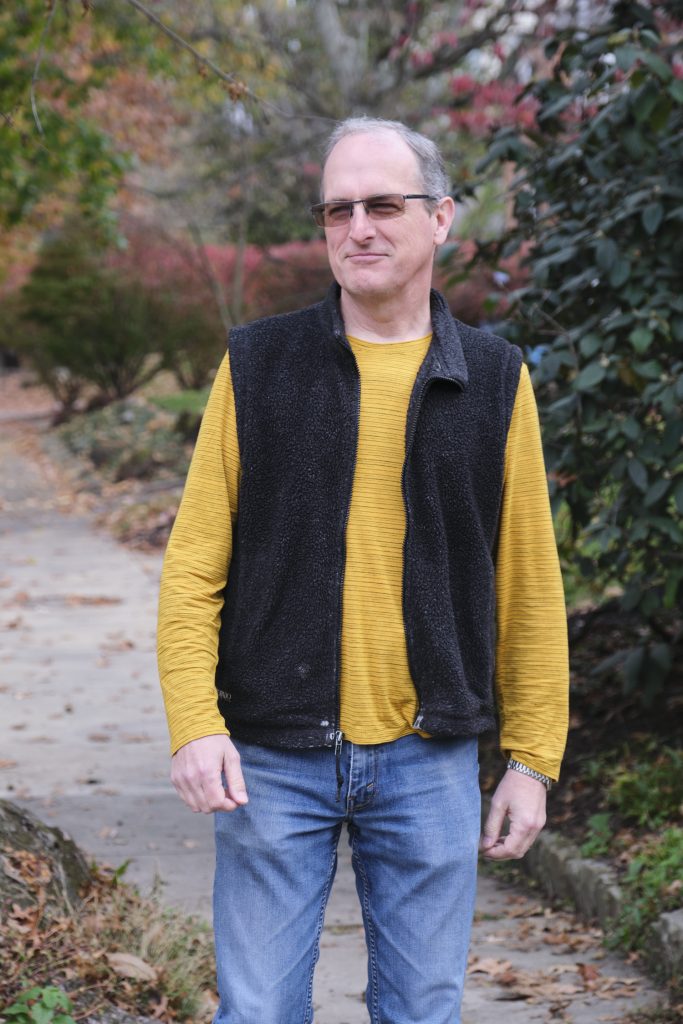 For my second Kai, I selected a stretchy rayon/polyester/spandex yard-dyed rib knit in navy and olive. This fabric is also fairly light and drapey, but it is more substantial and has a more suitable weight for a long-sleeved men's t-shirt. I like this one better. This fabric was fairly easy to sew with, but I found it almost impossible to mark notches with my washable markers, so I ended up improvising the collar band a bit. I probably should have marked the notches with clips.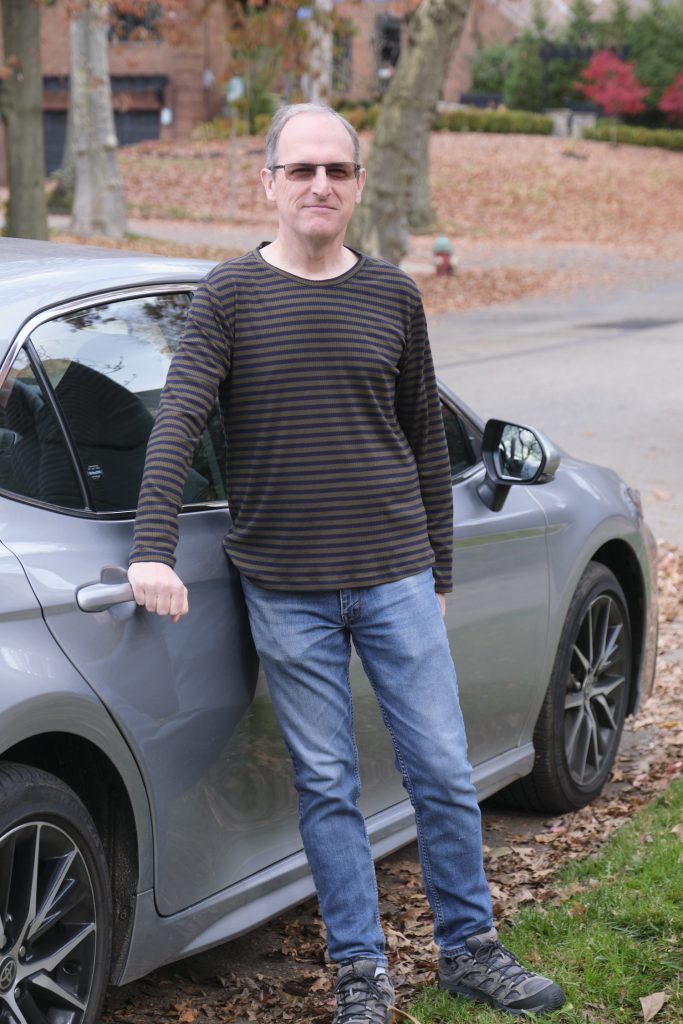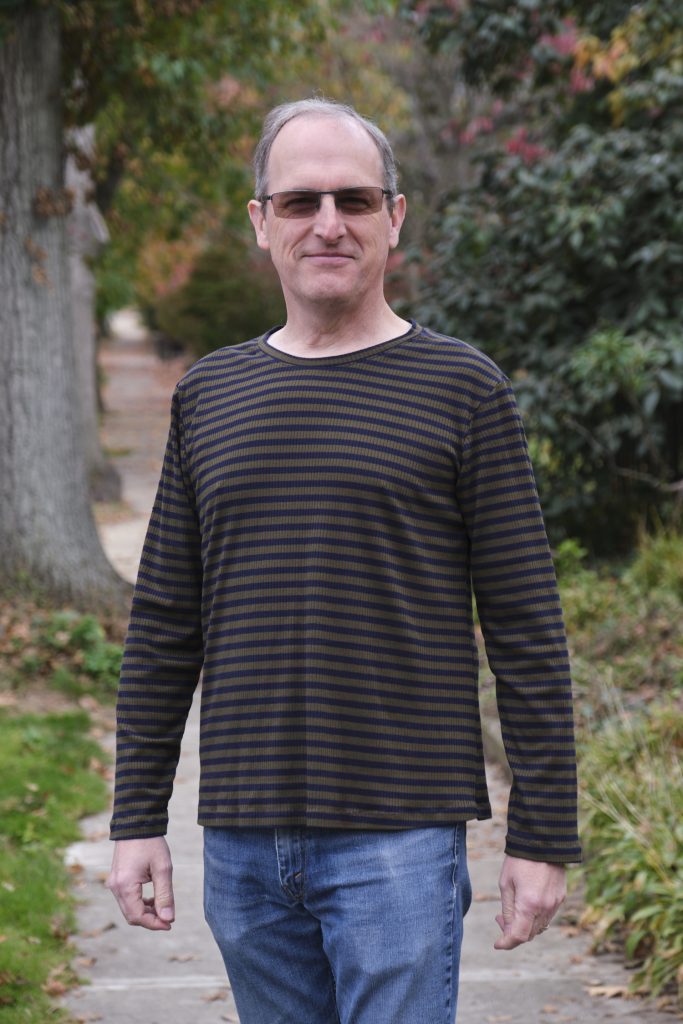 I think he enjoyed being photographed rather than being my photographer this time. I was excited about using the fall leaves as a backdrop but he was more interested in a photo with our new car.
I'll make some more Kai t-shirt for him after I find some good cotton-lycra striped fabric.