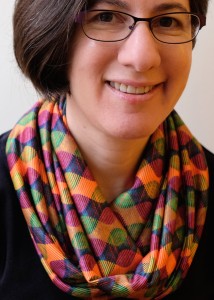 A few months ago I got a request from the powers that be at CMU to design a scarf based on my Tartan Tango quilt design that they had commissioned when I was on sabbatical back in 2013. I was happy to oblige. I dusted off my Interleave quilt design software and produced a fabric design based on the quilt. After experimenting with the design in both a large and small size, we settled on the smaller version.
But they wanted 50 of them ASAP, which is well beyond what I could possibly sew in a week (or even a year given my current schedule). So I ordered a huge bolt of fabric from Spoonflower and subcontracted the sewing to Jen Primack of Upcycled Designs.  Jen cut the fabric and sewed it on her serger, and was able to deliver the first half of the order within a few days, and the second half not long after.
I also learned a bit about scarf packaging, and acquired suitable glossy white boxes and gold "stretch loops" for a finishing touch (yes, that is the proper term for those gold elastic cords, tied in a bow, that decorate small packages… I just learned that).
I have another slightly smaller project in the works that Jen is helping me with, and will sew a few more scarves myself with fabric I designed from Grandma Glady's paintings.