Some time in April a VIP visitor came to the STUDIO to talk with Golan, accompanied by an entourage of folks from CMU public relations and our central administration. While Golan entertained the visitor, members of the entourage wandered around the STUDIO, where they happened to find me surrounded by bright colorful things, working on Interleave #4. I introduced myself and showed them what I was doing. They were intrigued by the Processing program I was using to generate quilt designs, as well as the dozen or so colorful printouts of candidate quilt designs scattered on my desk. They started asking questions. Could I design a quilt like this with a CMU theme? I assured them I could come up with something. They told me they might be interested in commissioning such a quilt and would get back to me. A couple weeks later they sent me email, and asked me to describe a CMU themed quilt I might design with the Processing program. Then they asked for a mockup. They liked what they saw and I got the commission – with a very tight deadline. I got to work right away.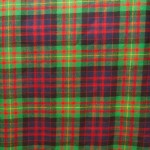 I had promised an Interleave quilt that would represent art and technology being woven together into the fabric of Carnegie Mellon. My design featured sine waves and CMU's tartan fabric, which appears on graduation hoods and all sorts of official university paraphernalia. Plaid is a tricky fabric to work with, and many a hideous design has been created with CMU's tartan plaid. I was determined to conquer the plaid. I headed to the campus store to purchase some. It turns out they sell both wool and flannel versions by the yard. I bought a yard of each. I could always make a kilt or pajamas out of whichever fabric I don't use for the quilt.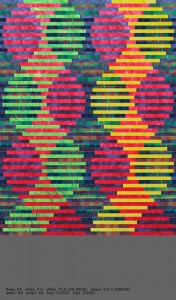 I assembled panels of tartan and "solid" batiks and prepared to construct the quilt. From the previous Interleave quilts, I had learned that it really helps to to draw half-inch lines on a foundation fabric and line the strips up with the fabric for quilting. But it is difficult and tedious to draw so many parallel lines on fabric, so I tried to find striped fabric with half-inch or quarter-inch spacing. I asked for advice from some of my favorite online fabric stores but ultimately came up empty handed. I'm sure such a fabric is out there somewhere, but I have been unable to find it (but stay tuned….). So I marked the foundation by hand, and layered it over a sheet of batting and a cute apple print fabric I had in my stash.
The quilt construction proceeded similarly to the previous Interleave quilts. I decided to give this one a border, like a picture frame. I added a half-inch black border and a 1.5-inch tartan border. The tartan border was overwhelming so I trimmed it back to an inch for a much more pleasing effect.
After completing the quilt I photographed it. Fran Flaherty in the CMU Digital Arts Studio made 50 prints of the digital image on 11×14 archival paper.  Perry Beck at the CMU art store cut 50 mats. And I hand numbered and signed 50 prints. And then Fran made 50 certificates of authenticity and I signed those too.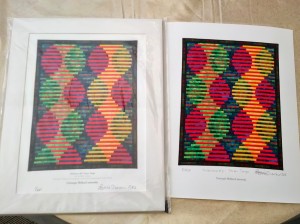 This past weekend the quilt was presented to Maureen Cohon, wife of the outgoing CMU president. Mrs. Cohon gave the matted prints to the partners of the board of trustee members who participated in her "partners program."
After I finished this project (a few days early even), I took some of the scraps from the tartan quilt and some other recent projects and improv pieced a couple of small quilts for my two graduating PhD students.