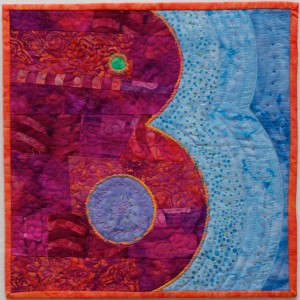 I finished a little quilt this week. No deeper meaning in this one. It is the letter B. Or if you rotate it 90 degrees counter-clockwise it is an autumn landscape with two ponds, or a pink crocodile winking at you in the water.
This is a 12-inch square made as part of the Fiberarts Guild of Pittsburgh's Artabet project. Members of the guild are making letters that will be photographed and used to create alphabet wrapping paper. There will also be an exhibit of the letters this spring. Some people asked to do their initial. I didn't request any particular letter, so B is what I got assigned.
This quilt is mostly about shape and color. The negative spaces are as important as the positive spaces. I was aiming for a composition that was appealing even if you don't care about the letter B, which I don't.  I also wanted a quilt that demonstrates the techniques I like to use and my personal style.
This letter B is bright, bold, bodacious. It speaks with bravado. And yet, it is also playful (bouncy? that's the closest synonym I can find that starts with B). When this B enters the room, heads turn.
I designed the shapes in Illustrator and printed a template, which I traced onto freezer paper. I cut out the freezer paper pieces and ironed them onto the fabric and cut around them loosely. The pink/orange part of the B is improvisationally pieced from scraps of pink and orange batiks. There are three light blue fabrics, one green, one violet. I assembled the pieces using reverse applique. For example, I loosely cut the B and layered it on the dotted blue fabric. I stitched along the edge of the B and then cut away the excess pink and orange fabric. Then I zigzagged over the raw edge. I couched (couching is sewing yarn or cord to fabric by zigzagging over the yarn) an orange and rainbow twisted yarn on the edges of the B. I filled the B with free-motion machine-quilted stipples and some random hand quilting. The blue area has straight-line machine quilting and french knots. There is some embroidery in the violet area. I attached a mitered French binding on the edges.
So there you have it: the letter B.