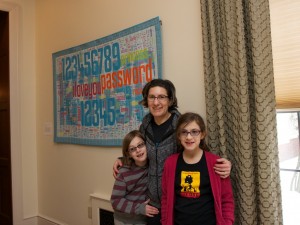 I'm really excited that my Security Blanket quilt won honorable mention in the International Science & Engineering Visualization Challenge and is featured in an article in the February 7 issue of Science magazine. No, they don't have a category for quilts, but that didn't stop me from entering (and winning).
The quilt is currently on loan to Carnegie Mellon University, and is being displayed in the home of our university president. My daughters and I stopped by a couple of weeks ago to check it out.
Science also did a little profile of me in their Career Magazine.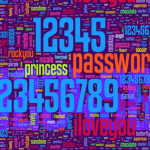 And for those of you who want to make your own security blankets, pillow, ties, curtains, or dresses, I now have a few different versions of purple "bad password" fabric available by the yard at Spoonflower.com (update: you can get ties made from this fabric too!). You can order it on wrapping paper or wall paper too. I have small and large versions of the print, with and without the naughty words. (The quilt includes all the naughty words for authenticity.)